ASSOCIATE HOFR WELDING CABLES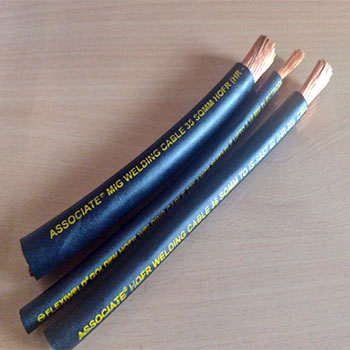 Features:
We offer premium quality MGI Welding Cables Fabricated by using qualitative MGI cable and Conform to the standards of the industry. The cable Encompasses polyurethane tube in the middle while Two Teflon wires are embedded in the conductor and covered with NBR-PVR synthetic rubber. Teflon wires act as switching cords. Conductors of varying sizes are used as per the required current carrying capacity.

ASSOCIATE MGI CABLE BUNCHED COPPER WIRE ALONG WITH 2 OR 3 TEFLON WIRE CABLE ( SWITCH CORD ) LAYED AROUND PUTUBE BINDED WITH POLYESTER TAPE AND OVER ALL HOFR SHEATH.

---